Jim and I are getting a lot of amusement out of Jack lately, so I'm going to dedicate a whole post to him. He's always been really vocal, but lately he's had a sudden language spurt so we can finally understand what he's saying. Classic Jack: before he really grasped the whole English language thing, he just made up his own words for stuff. It took us months to figure out that a Tum was a plane. He finally caught on to the fact that using the same words as everyone else makes life easier, thank goodness.
The thing that amuses us the most about Jack talking is the way he talks. I don't know if I can describe it, but I'll try. He uses a boyish screamy voice. He emphasizes some words by saying one syllable more loudly than another. He also tends to pause between each word. My mom says he talks like a robot and that's pretty accurate -- he talks like a boyish, screamy robot.
These are recent conversations I've had with Jack:
J: MAma. JACKie BREAKing! KITE! (said while in his car seat)
W: What kite? Can you show it to me? (worried he has torn his window shade)
J. NOOOO! JACKie BREAKing! KITE. MAma.
W: Where is the kite?
J: BREAKing. KITE! BREAKing. KITE!
W: Can you point to the kite?
J: NOOOO! JACKie BREAKing! PApa KITE! (I realize he's talking about something of Jim's that he broke the day before).
Here's another one:
J: MAma. I GOINGWORK. BYYYYYYE! (hoisting the Wii bag over his shoulder)
W: (not paying attention)
J: BYYYYYYYYE! BYYYYE! MAma. BYYYYEEE!
W: Bye!
J: (runs around the table once and returns) I back. HIIIIIIIII! MAma.
W: Hi!
This conversation was repeated in its entirety for at least 30 minutes.
Here's a conversation we had while Jack was watching Curious George.
J. MAma. monKEY! monKEY!
W: I see him.
J: where HE GO? (every time Curious George left the TV screen) where monKEY? GO? Oooooooh. monKEY! DARE he IS! MAma. (as soon as George returns)
Later, Jack became very concerned when George lost a bowling ball belonging to the Man with the Yellow Hat. He came to get me in the kitchen.
J: MAma! BALL! BALL GO! UHoh. UHoh ball.
W: What ball?
J: (dragging me into the living room) monKEY. BALL. gone. UHoh monKEY!
In fact, Jack sounds a little like Rain Man sometimes. If he comes up with a good sentence, he likes to try out several different versions. Last month, we had to go to the ballet store to pick up some new shoes for Lily. Her feet are growing like weeds right now, and she complained that her 3 week old ballet shoes were pinching her toes. I decided to head up to the store while she was at school, so it was just me and Jack.
When we spoke to the saleslady, I told her that Lily's shoes were too tight, so we needed a larger size. As soon as she handed me the box, Jack wanted to carry it, so I let him. As we walked back to the register to check out, he kept saying "Tight." I thought he was talking about all the ballet tights. Then we got into the car.
J: MAma. LILY shoe. TOOTIGHT.
W: That's right, they were too tight.
J. SHOE. TOOTIGHT.
W: Yep.
J: TOOTIGHT. Shoe. LILY SHOE.
W: The shoes were too tight.
J. TIIIIIGHT. shoe TOO. TIIIIIIIGGHT. Lily. SHOE TIIIIIIIGHT.
W: Mmm-hmmm.
J. SHOE. TOOOOOOOO tight.
A few weeks later, as he watched Lily's dance class, he brought it up again! It was basically the same routine. I couldn't believe he remembered it, but he spent most of the class reminding me that Lily's shoes? TOOOO TIIIIIIght.
A part of me wonders if he does his robot speak for its entertainment value. He is a natural comedian. He often tells me "JACKie. FUUUUUUNeeeee!" And now, for your viewing pleasure, Jack being "funny" with chocolate pudding: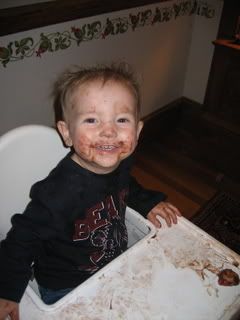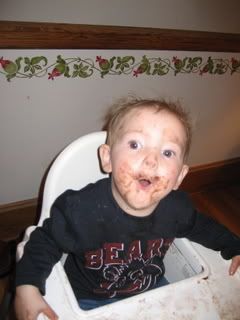 Yes, he styled his hair with pudding.