Okay, I was relatively successful with the last post, so I'm going to try some more.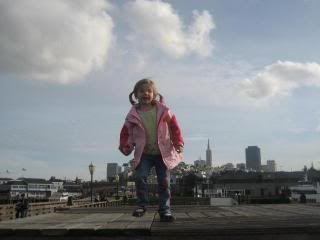 Here's Lily dancing on the wharf. You can see the San Francisco skyline in the background (or you will be able to if Blogger doesn't cut half of the picture off).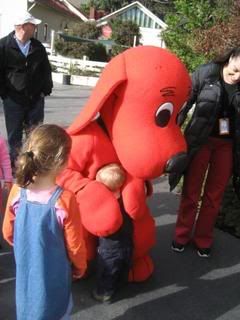 Here's Jack hugging Clifford (or CLIFF-oooool, as Jack would say). It was such a sweet moment, and he was jumping for joy and waving his hands in the air afterward.
Lily peeking out of the boat at the children's museum in Sausalito. I love this picture!
Lily waving from the same boat. You can see Golden Gate Bridge in the background!
Lily running up the stump steps. We really liked the outdoor features at this museum, and the kids thought they were terrific!
Jack staring at the bubble wall in one of the jumping areas at the museum. The floor of the little room was a waterbed sturdy enough to bounce around on. He really liked that area.
You know what, I think I finally beat Blogger on this post. Nothing appears to be too large or to be cut off! Yay!