Okay. I stepped away. I went to pick up Lily and got some exceedingly cold air for my trouble. I'm going to try and post a few pictures. We'll see how it goes.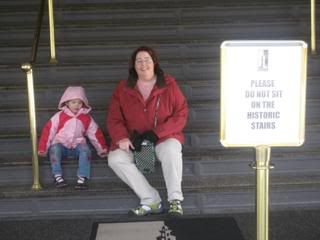 Can you say "lawbreakers?" Here we are sitting on the steps of the port authority. I'm not sure if you can read the sign (thanks to Jim who never takes a good picture), but it says "Please do not sit on the historic steps." It isn't clear why the steps are historic, or why they need to tell people not to sit on them (as far as I could tell, we were the only ones tempted to do it), but there you go. Edited to Add: No, you can't see the sign because accursed Blogger has cut it off. Whatever.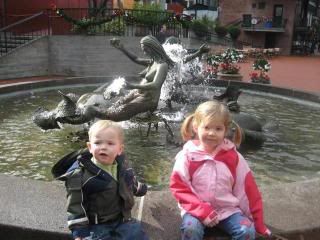 Here are Lily and Jack at the fountain in Ghirardelli Square. You may recall from my earlier post that Jack had a little cupcake meltdown there. Neither of the kids look too thrilled in this photo, which I took after the whole meltdown incident.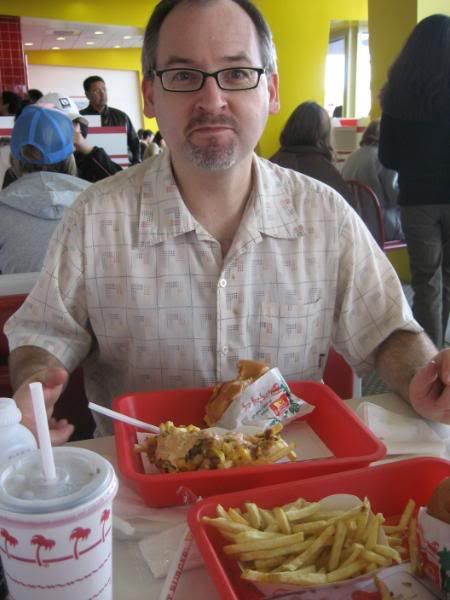 Here's Jim enjoying a burger at In-N-Out.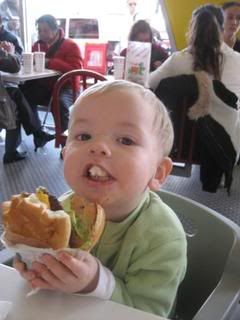 Like father, like son.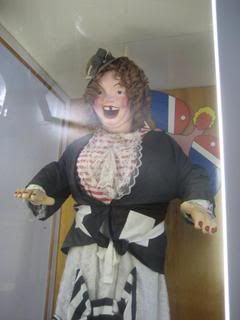 Here's the picture of Laughing Sal from the Musee Mechanique (I think I called her Laughing Jill before, but that turns out to be wrong). She laughed in a creepy way for about five minutes. Now take a look at Jack as he watched the show: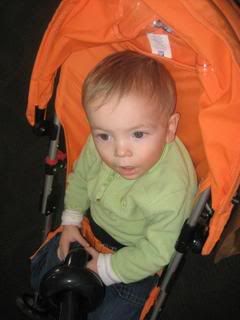 His expression is just priceless.
Okay. I talked with my Mom on the phone and she advises me that the picture in my previous post is not giant (as it appears on my computer). I'm hoping that these photos are not giant or too small. If they aren't, I think I may have finally beaten the Demon Blogger.